I have wanted a chalkboard in my kitchen for
ever
!
I thought it would be great for doodling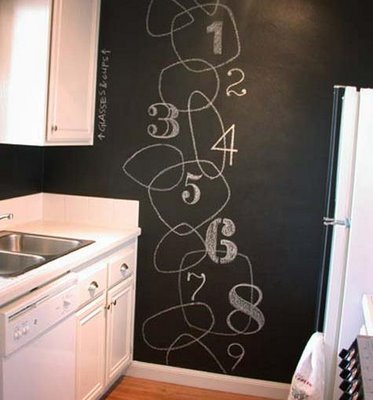 And jotting down notes
I knew my kids would love it
I could put my never-ending
to do
list there
and leave notes for the kids
put my grocery lists there
Plus I just think they're pretty!
Here's my attempt...
I measured my cupboard doors, then made a trip to home depot for a sheet of particle board and some chalkboard paint.
(before picture)
Home Depot cut the board to size, and me and my handsome helper went to work painting
I attached my new chalkboards to my cupboard doors with liquid nails
primed it with chalk
and started doodling, listing, and menu-planning
Hmmmm...what to do with the leftover board? I drew some lines on the board and Carl cut the pieces out
I did a little sanding
a little painting and a little more sanding
Ta-Da
I love it! Definitely worth the $6 board and the paint :)