My mom learned to make Spring Rolls when we lived in the Phillipines. We spent 10 months there on our way to P.N.G when I was 6 years old.
I love ethnic foods and these are one of my favorites. I have recently begun making these often at home. Carl and the kids all love them! Just add a salad or fried rice and you have a complete meal.
Start with a bag of coleslaw (with carrots).
Heat pan with about a tablespoon of oil and stir fry cabbage mixture until tender.
Add a couple cloves of minced garlic
And some minced ginger. This is in the produce aisle and is very cheap. Just break off what you need to use. We all love ginger so I use 3 or 4 pieces of ginger (about the size of the tip of my thumb) minced with my garlic press.
Stir for a minute to let the flavors merge. Remove cabbage from pan.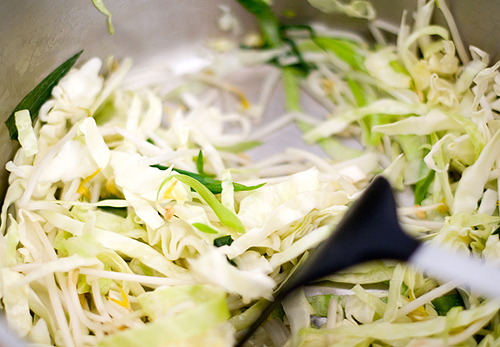 Using same pan (add a little more oil) saute 2 chicken breasts. When chicken is done, chop it up into very small pieces. Add this to the cabbage mixture. This will be your filling.
1 package of egg roll wrappers. Found in the refrigerated section of the produce aisle, usually next to the tofu.
Place 2-3 tablespoons of filling onto the wrappers. Roll up and tuck corners so no filling falls out. Seal with a dab of water. Abby and Ella love doing this part and can do it all by themselves.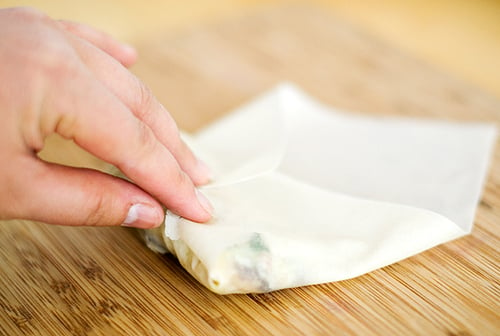 Heat pan with oil 1-2 inches deep for deep-frying. Make sure oil is hot! ( I use a smaller saucepan so I don't have to pour as much oil to get it deep) Cook till golden brown and crispy. Should just take about 30-50 seconds.
Makes about 18 delicious Spring Rolls. Mmmmmmmmmm! They don't last long!
For dipping, we've tried soy sauce, sweet and sour sauce, and Kraft asian sesame dressing. Our favorite is this. Found with the refrigerated dressings next to the bagged salad. Enjoy!